How to ignite high performance selling with deep customer-centricity, collaboration and learning
A time of change and possibility
We live in times of unprecedented change and volatility where the future looks more ambiguous and uncertain than ever before. As we begin to emerge from a global pandemic, leaders from across industries are taking this opportunity to reimagine a different kind of future, a future where human connection, creativity and learning become the driving forces that enable organizations to grow and thrive in a world of change and complexity.
Leaders recognize that the consequences of inaction are simply too great. To thrive, their organizations must be capable of adapting and evolving with changing customer demands. They see first-hand how traditional sales methods are failing to deliver for both customers and employees and as pressure grows, there is a renewed sense of urgency to find better ways to empower teams to connect, create and win. They want to enable a future where all stakeholders can grow and succeed together.
In this article. I will introduce a new model for performance and shared success called Deep Performance Selling. I'll talk about why the time is right for change and I'll introduce the 3 pillars upon which Deep Performance Selling is built: Deep Customer Centricity, Deep Collaboration, and Deep Learning. I've also included some links to additional resources to help you start your journey to Deep.
3 compelling reasons for change right now
Customers expect more


As customers strive to reignite growth their expectations are higher than ever. They're demanding a new kind of relationship with vendors, a relationship where vendors provide ongoing insights that challenges the status quo and drives the innovation needed to stay ahead, and they want help gathering functional requirements and building consensus across key stakeholders.

It's a complex and ever-changing landscape that today's sales teams must be capable of navigating if they are to stand a chance of winning. However, when we look at organization design and team alignment, we can see that most B2B teams are simply not set-up to engage and deliver value in this way. The majority of customer facing revenue teams still operate in silos with limited opportunity for proactive customer-centered collaboration. As customer expectations continue to rise, organizations that continue to focus on sales efficiency over customer experience (CX) and value creation, will find it increasingly difficult to compete.
Performance under pressure
There's an accepted reality in B2B sales that 80% of revenue generally comes from about 20% of the high performers. Over the years, we've seen large investments in sales transformation initiatives, new CRMs and advanced learning platforms as leaders strive to even-out performance across teams, but stubbornly this performance conundrum has persisted and today, we see a growing performance crisis in B2B sales.

57%

of sellers consistently miss quota and in some industries win rates are now as low as

15%

. Incredibly more than

40%

of all opportunities stagnate as teams struggle to meet customer expectations and build consensus for their products and services. With little priority given to reflection and win/loss analysis, teams are left perplexed – wondering where it went wrong.

To compound the performance challenge, most leaders double-down on productivity, increasing the pressure on teams to do more of the same, rather than focusing on initiatives that build team selling capabilities. Although teams often rise to the challenge, performance gains tend to be modest and temporary. It's an endless mantra of harder work, not smarter work, as team frustration grows with ineffective sales methods and outdated ways of performance management. In this challenging climate disillusionment soon sets-in. The attrition rate in sales is running at a high of

34%

. It's a perfect storm of dissatisfied customers, frustrated sellers and leadership running out of performance management ideas.

A growing need for better work experiences
The turbulent events of the last year have made us reflect on the central importance of connection in our lives. We have seen just how fragile our world really is and we have learnt that when we come together, we can overcome almost any adversity. As a result, many are reevaluating the purpose and meaning of work. There is a growing sense that the experience of work can and should be better. People want work to play a meaningful and fulfilling role in their lives.Rather than the traditional top-down command structures with a focus on productivity and efficiency, salespeople are seeking a more human-centered approach where they can grow and evolve together, where there is trust and autonomy to take control of their performance and deliver for their customers. Promoting the importance of teamwork, co-creativity, and customer experience (CX) is becoming more important as organizations realize their contribution to strategic long-term goals. In this future world, team members contributions are recognized, people are motivated by trust and collaboration and learning is embedded into the organizational behaviors as a strategic enabler of growth.
The momentum for reinvention and change is with us
It seems we are at a point where the need and opportunity for transformational change are converging. In a recent survey, 86% of customers said they are willing to pay a premium of up to 18% for a good customer experience. Solution providers are responding – 46% have made CX their priority for the next 5 years. They recognize the urgent need to elevate buying experiences and turn value delivery into a key differentiator for their businesses. More and more leaders are taking the initiative to redesign sales processes to enable deeper team collaboration, so that teams may create the value and insight's customers now expect to receive as standard.
As leaders begin this transformation, it's important to reflect and learn from the mistakes of past transformation programs. More than 73% of all business transformation initiatives fail to deliver lasting change. Often programs are complex to implement, difficult to scale and don't deliver the expected long-term gains. As a result, many leaders have lost faith in their ability to deliver meaningful change. However, when we look to understand why programs fail, we find there are 3 common mistakes: a lack of shared vision where teams work independently to drive change; an inward focus on performance gains through cost-cutting and productivity initiatives that deliver short-term results; failure to set learning paths matched to performance aspirations in order to follow through on transformation initiatives.
To overcome these challenges and deliver lasting transformational change, we need a new sales performance model that's designed for today's complex customer-led world. We need a transformational model that unifies strategy, performance and learning to deliver last change and performance improvement, where autonomy, purpose and meaning are united, and teams are empowered to take control of their own performance. We need a sales performance model where all stakeholders can grow, evolve and share in success. We call this new model – Deep Performance Selling.
3 Pillars to Deep Performance Selling
Deep Performance Selling occurs when we leverage the power of Deep Customer Centricity, Deep Collaboration, and Deep Learning together. It provides a new model for sustainable transformation and high performance selling that can only be achieved when all three are enabled and synchronized within organizations. It resolves fragmented approaches into a unified whole system approach and elevates key interdependencies critical to sustainable high performance. It provides a new model for sales agility and responsiveness fit for today's complex and ambiguous world.
Deep Customer Centricity

At the heart of every customer-centric strategy lies a deep desire to help customers grow and thrive. In recent years however the term 'customer-centricity' has become overused and lost much of its meaning. While there has been some success implementing account-based marketing strategies – in truth, there has been little attention given to improving the buying experience itself. Teams continue to use linear sales processes and prioritize internal goals, both of which bear little relevance to today's complex customer buying processes. There is little opportunity for real customer centricity – most leaders don't prioritize customer experiences and value creation.

Deep Customer Centricity brings teams together to deliver exceptional customer experiences at each stage of the buying journey. It harnesses the collective skills and expertise of people to create personalized interactions that inspire and build ambition for products and services. It turns customer interactions into memorable moments of insight and value that builds advocacy and consensus to buy. Teams build trust and credibility – customers feel confident they have access to the rights skills and expertise they need to succeed. As relationships develop, customers increasingly rely on the team's guidance and expertise. Vendors become trusted innovation partners helping customers to constantly adapt and reinvent to stay ahead in their marketplace. All stakeholders grow and evolve together. Everyone shares in the success.

Deep Collaboration

Everyday cross-functional teams work together to engage with customers, develop opportunities and win deals. As selling has become more complex, leaders have made large investments in file sharing and communication platforms to improve collaboration across their teams. However, when we take a closer look at the workflow dynamics and relationships between teams, a clear picture starts to emerge. Collaboration for most still tends to be tactical and reactive, with little emphasis on strategy and forward- planning. In fact, most teams continue to work independent of each other often with their own set of priorities and KPIs. Few are aligned to a common purpose or well defined end-goal and there is little sense of collective performance. Whilst this form of collaboration is good for driving better cooperation and improved efficiency, it does little to enable the kind of purposeful strategic coordination of expertise needed to meet today's customer expectations.

Deep Collaboration aligns teams to a higher-level purpose and mission, for example…
Purpose: Help customers adapt and thrive in the marketplace. To overcome challenges and take advantage of opportunities to grow and succeed long-term.
Mission: Turn customer experience into memorable moments of differentiation, by delivering maximum value at each interaction across the customer journey.

To deliver on this purpose and mission, teams are orchestrated around the customer journey to deliver seamless end-to-end experiences. There is a clear understanding of roles, responsibilities and what sales excellence looks like at each stage of the customer journey. Every member of the team has an important role to play. There are clearly defined 'jobs-to-be-done' at each stage of the journey. Everyone can see how well the team is performing against the criteria for success. There is a high degree of transparency and peer-accountability. Workflows are agile and teams respond quickly to changing customer dynamics. Leader's value and reward the collective performance. Team collaboration and value creation are elevated to the top of the organization's priorities. Leaders manage performance with a balanced focus on productivity, quality and team selling effectiveness (quantitative & qualitative KPIs). Teams believe 'we are truly successful together'.

Deep Learning

We live in an incredible time for learning and personal development. In the last 10 years we've seen an explosion of technology-related learning developments that have given more people access to learning than ever before. Yet,

despite the progress made, most leaders say that they've seen limited evidence of new skills transferring into the workplace, and little by way of consistent performance improvement. As the half-life of skills continues to decline and new roles evolve at a blistering speed, the challenge for L&D organizations now becomes even greater.

When we speak with leaders, we find there is often an oversimplified view of learning and what it takes to develop higher level organizational competencies. Most leaders still prioritize learning that focuses on building product and technology knowledge, rather than investing in learning initiatives that develop collective selling skills and capabilities – so critical for teams to thrive in today's complex and ambiguous world. Despite seeing big uplifts in learning productivity in recent years, there has been little sustainable performance improvement. Learners are increasingly frustrated with generic training approaches that do little to help them to develop the advanced skills they need to excel.

Deep Learning resets the direction and refines the outcomes of learning for today's modern sales organization. It goes beyond outdated notions of training to build cultures of autonomous learning and continuous development. It promotes learning as a valued strategic driver of creativity and innovation. It enables organizations to rapidly adapt and evolve – to develop the skills and competencies they will need to respond and thrive in the years ahead. It accelerates collective learning and development – teams learning by doing (experiential learning). It's an exciting future of personalized learning in-the-flow, where all learners can grow and realize their full potential. No learner is left behind.
The journey to Deep Performance Selling doesn't need to be complex.
Implementing change of this nature doesn't need to be onerous or overly complex.
Start by evaluating where you are right now, to take some immediate steps to new ways of thinking & behaving. Get sales teams to openly ask customers what success looks like for them. Try mapping the customer buying journey and implementing team collaboration points for planning and co-creativity along the way or try holding win/loss deal analysis sessions to encourage the teams to capture learnings. There are lots of small steps you can take to build momentum. We've put together a practical set of recommended actions and a checklist to help guide you on your way.
Animis is the First Sales Collaboration Platform that Powers Deep Performance Selling
Animis is the first sales collaboration platform that brings people, sales excellence and continuous development together to achieve sustainable high performance and lasting revenue growth. With Deep-collaboration at its core, Animis guides teams using customer-centric workflows and sales practice recommendations to elevate the customer buying experience and maximize every opportunity. Teams are empowered with integrated learning experiences that build the high-performance capabilities they need to grow and thrive. Animis helps leaders to see what the best teams do differently- decoding the skills and capabilities needed to make everyone a winner.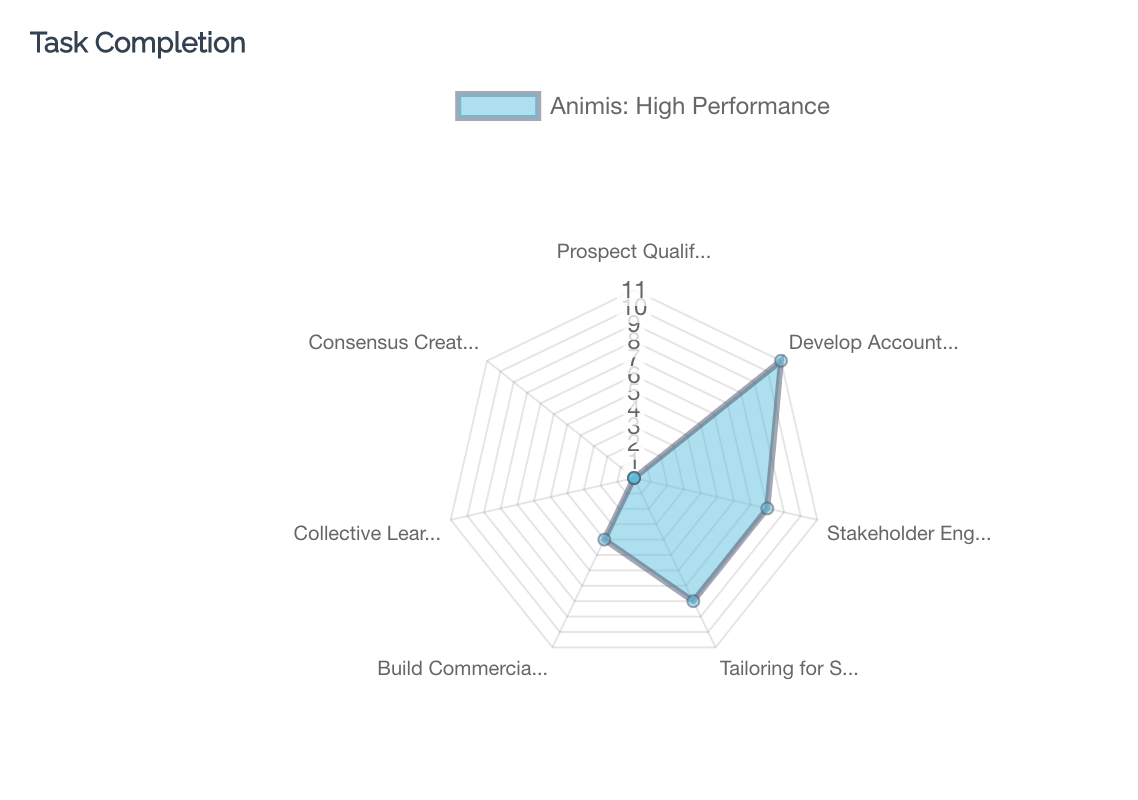 Team Collaboration 
Orchestrate your team's collective ingenuity to make sense of complex customer scenarios and changing opportunities.

 
Custom Sales Journeys 
Create tailored workflows that flex and respond to changing customer needs and buying scenarios. Cultivate deep customer-centricity to foster winning relationships. Forge team engagement around customer stakeholders to drive consensus to buy.

 
Capability Building 
Drive forward looking action with deep insights into team orchestration and selling effectiveness. Nurture the power of autonomy and self-development Use shared learnings for continuous improvement to make everyone a winner. 

 
The Future is Here – the Future is Deep 
If you'd like to know more about Deep Performance Selling or would like to arrange a demo of the Animis platform – arrange a chat or complete an online readiness assessment to receive tailored feedback to kick-start your Deep journey.